Co jest potrzebne Waszym zdaniem, żeby uczyć dzieci? Ja staram się patrzeć na świat oczami dziecka, myśleć jak dziecko, a na zajęciach zachowywać się jak dziecko 😉 .
Kiedyś miałam jednak inne podejście. Chcąc "wycisnąć" z dzieci jak najwięcej się da, wiedząc, że dziecko ma duże możliwości przyswajania, ale też mając w pamięci schematy, które utrwaliła we mnie szkoła publiczna oraz różne zajęcia dodatkowe z angielskiego, na które KAZALI mi chodzić rodzice (dziś oczywiście jestem im wdzięczna, bo pomimo że zajęcia nie były atrakcyjne, osłuchałam się z językiem i wiem, czego NIE robić na zajęciach). Moje przekonanie o tym, że uczenie to ławki, ładnie usadzeni uczniowie i pani nauczycielka przechadzająca się dumnym krokiem po klasie, groźnie machająca długopisem, przełożyły się nawet na moje dziecięce zabawy 😉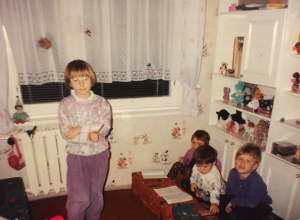 Jaka jest jednak rzeczywistość? A już z całą pewnością rzeczywistość nauczania w przedszkolu? G. Doman powiedział, że zabawa jest nauką, nauka zabawą. Im więcej zabawy, tym więcej nauki.
Myślę, że coś w tym jest. Dziś z dziećmi głównie się bawię. Siedzę z nimi na dywanie (w każdych spodniach dziury na kolanach od tego:) ), śpiewam (choć śpiewać nie potrafię), tańczę, robię głupie miny. I wiecie co? Kocham to robić 🙂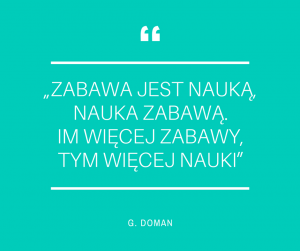 Skąd czerpię pomysły? Obserwuję własne dzieci (12-letnią Sarę i 4-letniego Tymka), czytam blogi mądrzejszych ode mnie i korzystam z tylu szkoleń, z ilu tylko mogę.