Uczycie dzieci w przedszkolu angielskiego alfabetu? Bo ja tak! Zaczynam od 5 latków. Jak to robię? Na różne sposoby. Dziś opiszę kilka z nich.
Mam takie książeczki, które nie wiem gdzie i nie wiem kiedy zdobyłam. Niestety, nie posiadam każdej literki. Przynoszę książeczki, a w nich historyjki o dzieciach o imieniu "G" lub "H" etc. , które wkładają do swoich pudełek różne rzeczy lub zwierzątka, których nazwy zaczynają się od tych literek. Napotykają często jakieś przeszkody, a na końcu jest ilustracja z poznanymi słowami na daną literkę.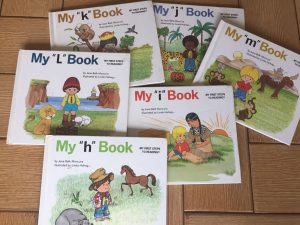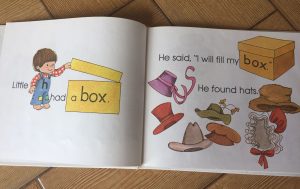 2. Maty kiddo – dla mnie maty są hitem i przydają się do literowania – w klasach starszych i do poznawania literek – w przedszkolach. Wybieram w grupach młodszych koło 3 literek na miesiąc i skaczemy po nich, rzucamy do siebie, robimy lornetkę 😊
3. Nowy pomysł przyszedł mi do głowy wraz z nową książeczką 😊. Będziemy co tydzień poznawać nową literkę i przypominać sobie poprzednie😊. Do każdej literki są dwa zwierzątka, które dzieci poznają przy okazji. Do książeczki dołączony jest również plakat, który pomaga w powtórkach <3 W planie są także karty obrazkowe!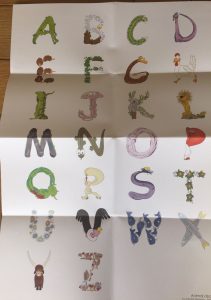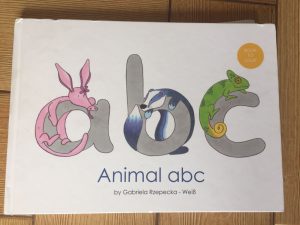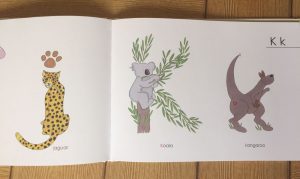 Kliknij w PDF aby go pobrać.
4. Można zrobić również z dziećmi fajowe opaski => KLIKNIJ W LINK
Play Box
Lubię nowości, a wy? Lubię poznawać materiały, które pomagają przedszkolakom w poznaniu języka, w odkrywaniu go w taki sposób, aby się przy tym dobrze bawić. Przyjrzałam się niedawno co Nowa Era proponuje dla dzieci😊
Co najpierw zobaczyłam?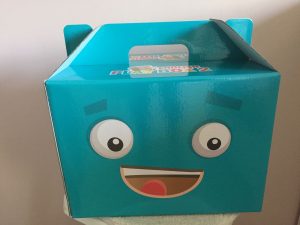 Pudełeczko się do mnie uśmiechnęło 😊 A w środku duże karty obrazkowe – to lubię! Duże grupy przedszkolne lubią duże karty obrazkowe 😊 Niestety karty z historyjkami obrazkowymi są takiej samej wielkości jak karty obrazkowe (dla mnie ciut za małe ☹ )
Zobaczmy do środka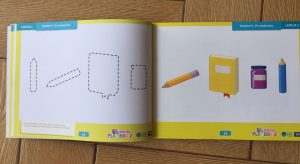 To niezwykle praktyczne. Zazwyczaj jest troszkę szukania, przewracania stron, mojego wcześniejszego przygotowania, a tu naklejki są na stronie obok.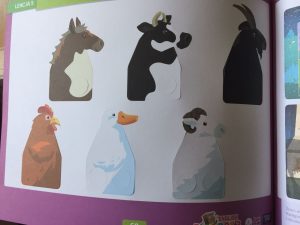 Widzicie te wypychanki? Jak by to powiedzieć… I'm lovin' it….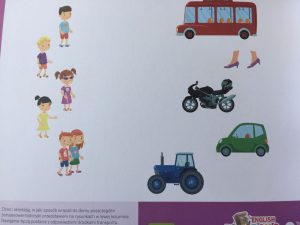 Na ilustracji jest dziewczynka niewidoma, co przykuło moją uwagę i podoba mi się takie ujęcie niepełnosprawności jako czegoś normalnego, czegoś z czym spotykamy się na co dzień.
Fajnym dodatkiem są też płyty dla nauczyciela, które zawierają mnóstwo materiałów na zadania domowe, kąciki dla dzieci, materiały dla rodziców itp.
Skontaktujcie się z reprezentantami, a na pewno pokażą wam te skarby 😊
Jeśli chcecie zobaczyć moje pomysły, których nikt jeszcze nie widział i wyjątkowe pomysły Edyty Pikulskiej zapraszamy na nasze szkolenia 16.09 w Wejherowie oraz 4.11 w Warszawie 😊
Więcej szczegółów -> Link do warsztatów
Autorką tekstu jest Karolina Jankowska.
Karolina jest nauczycielem języka angielskiego. Uczyła każdą grupę wiekową, ale uczenie dzieci sprawia jej najwięcej satysfakcji. Od 3 lat uczy w przedszkolach i prywatnie, a także we własnej szkole angielskiego HIGH FIVE , w której uczy dzieci w wieku przedszkolnym i klasach 0-­3.