Hello dears!
To troszkę praktyki. Dzisiaj przedstawiam 3 nowe pomysły na nadchodzący rok szkolny. Albo i przedszkolny – jak kto woli 🙂
1. Kinder jajka 🙂
Zastanawiałam się jak zdobędę odpowiednią ich ilość, ale wystarczyło wywiesić karteczkę z ogłoszeniem w przedszkolu i siatka jajeczek jest 😀 Polecam proceder!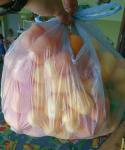 Pomyślałam , że do jajeczek schowam mini karty obrazkowe lub mini figurki, a dzieci będą losowały jajeczko i wypowiedzą słówko, które się w nim znajduje. Jajeczka można rzucać do dzieci, można "dać kilka w obieg" w kółku i np.: kiedy puszczona wcześniej muzyka się zatrzyma, dzieci trzymające jajeczko mają wypowiedzieć słówka, które są w środku…
Na zdjęciu jest jeszcze jedno puste jajeczko – czeka na Wasze pomysły 😉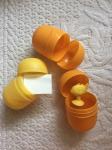 Zakrętki
Od jakiegoś czasu zbieram zakrętki od dużych 5 l butli z wodą. Chcę, żeby zakrętki były jednakowe i wystarczająco duże. Na zakrętki mam 2 pomysły:
1) od wewnętrznej strony przyklejam obrazek, rozstawiam zakrętki na dywanie tak, żeby dzieci nie widziały obrazków – losują kolejno zakrętkę i mówią, co widzą na obrazku
2) oprócz obrazka można przykleić magnes i zrobić do tego wędkę (na internecie krąży kilka filmików DIY jak zrobić wędkę – załączam jeden poniżej) i dzieci wtedy "łowią" zakrętki i wypowiadają słówka – może być to warunkiem do zbierania punktów czy pieczątek 🙂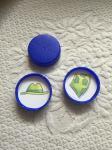 A tu jak zrobić DIY grę-wędkę:
Emotikony
Ten pomysł zrodził się w mojej głowie, kiedy odwiedzałam z córką jej ulubiony sklep LOKAAH. Jest tam trochę gadżetów z modnymi emotikonami… Wybrałam (żeby się nie spłukać ) breloczki w cenie 3 zł/szt. Odczepiłam z nich metalowe zawieszki i mam pluszowe piłeczki.
Moim zdaniem genialna rzecz kiedy ćwiczymy słownictwo emocji, uczuć. Piłeczki można rzucać do dzieci podając ich angielską nazwę, dziecko musi odrzucić ją do nas lub do kolegi/koleżanki powtarzając na głos słówko. Można oczywiście tworzyć "wariacje na temat" – podawać słówka z różną prędkością, intonacją, powtarzać "od tyłu", rzucać w skojarzenia, powtarzać w różnych sekwencjach, czy w różnych grupach znaczeniowych. Wierzę, że jesteście kreatywni i widząc piłeczki, utworzą się w Waszych głowach pomysły, które będą dostosowane do potrzeb Waszych i dzieci, których uczycie:)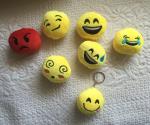 Jakie widzicie emocje? Ja widzę angry, hungry, bored, tired, happy, surprised, jedną przerobię na sad 😉 Na pewno przydadzą mi się również na początku lekcji jako warm-up do pytań typu how are you today?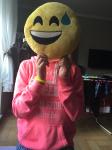 A tu moja córa ze swoim (nieco większym) emotikonem 😀
Pozdrawiam!
p.s.
W podobny sposób co emotikony wykorzystam te oto woreczki, które zobaczyłam kiedyś na blogu Londonopoly, a wykonały Gadatkowe Pomoce. Wysłałam zdjęcia kart obrazkowych i wykonali mi woreczki z takimi samymi ilustracjami 🙂 więcej zabaw na blogu londonopoly 🙂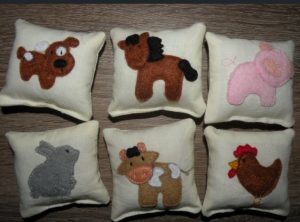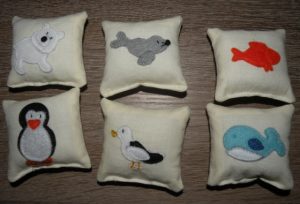 A może Wy macie jakieś pomysły na tego typu przedmioty? Czekam na komentarze 🙂