Wiem, że wielu z Was, albo nawet większość, nie pracuje z podręcznikami w przedszkolach. Kiedy zaczynałam pracę, też tak robiłam… Dlaczego to zmieniłam?
Ksera, które robiłam z dziećmi często się gubiły, gniotły, a w domach pewnie trafiały do śmieci:)
Grafika – które dziecko, mając do wyboru ksero…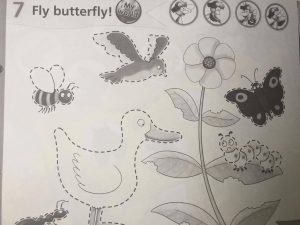 vs
kolorowy oryginał…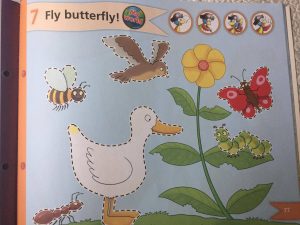 nawet,  jeśli to ksero kolorowe, wybierze kserówkę? (A swoją drogą, które z was, dorosłych wybrałoby ksero?)
Książki są po prostu bardziej eye catching, a oprócz tego zawierają naklejki, które dzieciaki ubóstwiają i często też cudowne wypychanki!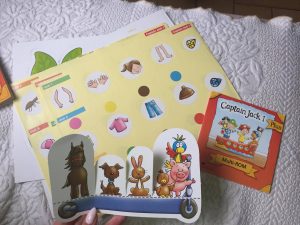 Zdjęcia pochodzą z książki Captain Jack  wydawnictwa Macmillan. Pracuję z dziećmi na tej książeczce już 2 rok i jestem zachwycona – zarówno grafiką, jak i historyjkami czy piosenkami!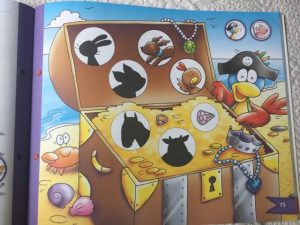 3. Podczas pracy z książką (a pracuję max 15 min w tyg z książeczkami) mam czas, żeby podejść do każdego dziecka osobiście, poćwiczyć wymowę, zobaczyć z czym ma problem…
4. Płyta dołączona do podręcznika jest wspaniałą pomocą do pracy rodzic- dziecko oraz do utrwalania materiału w domu. Płyty najczęściej zawierają poznane piosenki, często można też znaleźć na nich gry związane z poznanym słownictwem oraz krótkie historyjki.
5. Uczymy się większych liczb (przy podawaniu strony) i prostych poleceń "Open/close your books", "stick", "circle", "trace" etc.
6. Po zakończeniu roku szkolnego dzieci biorą książeczki do domu, opowiadają historyjki, chwalą się cioci, babci, tacie bratu czego się nauczyły i wszystko jest w jednej książeczce 🙂
7. Najważniejsze – dzieci kochają te książeczki!!! Prawie na każdych zajęciach słyszę – a proszę pani a czy będziemy dziś robić w książkach? 🙂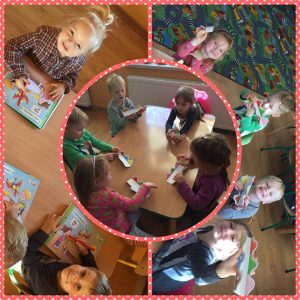 JAKIE  SĄ NAJCZĘSTSZE OBAWY PRZED ZAKUPEM PODRĘCZNIKÓW ?
* Nie zgodzi się dyrekcja,
* Rodzice nie będą chcieli zakupić podręczników…
Może macie jeszcze inne obawy? Podzielcie się nimi…
    Jeśli chodzi o dyrekcję, rozmawiam i proponuję, żebym to ja przedstawiła tę propozycję rodzicom na "zebraniu z rodzicami", na którym mówię, dlaczego korzystam z książek (7 punktów wymienionych wyżej) oraz przybliżoną cenę (którą negocjuję z wydawnictwem – kupuję wszystkie książki od razu, żeby mieć większy upust), przy czym uspokajam ich, że j.angielski to nadal zabawa, nadal głównie praca na dywanie, piosenki, historyjki, a książki to fragment zabawy w szkołę 🙂
   Ważne, żeby mówić z przekonaniem. Ja jestem przekonana o plusach, dlatego łatwiej mi to przychodzi 🙂 Kiedy wprowadzacie podręczniki, możecie zrobić głosowanie wśród rodziców, przy czym należy zaznaczyć, że jeśli większość będzie ZA, to wszyscy dokonują zakupu. Pracowałam w ten sposób w wielu przedszkolach i wierzcie mi – zero problemu ze strony rodziców i dyrekcji. Oni muszą po prostu zrozumieć sens używania książek. Oprócz tego, czas poświęcony na przygotowywanie ksera,wycinanie, wykorzystuję na robienie dodatkowych materiałów urozmaicających zajęcia 🙂