Za oknami zimno i deszczowo. Czas wymienić garderobę 🙂 To idealny moment na  wprowadzenie słów związanych z ubraniami! A także innych rozgrzewających myków w te jesienne dni… Oto kilka pomysłów:
1.Pralka
Z tym pomysłem już kilka razy spotkałam się w internecie. Pralkę najłatwiej zrobić z kartonika (jeśli masz dziecko, to może jesteś w posiadaniu zabawkowej pralki?), a ubranka – mogą być takie dla lalek lub papierowe. Nauczyciel wymienia nazwy ubrań, a zadaniem dzieci jest włożyć je do pralki. Następnie jedno dziecko może zadawać drugiemu 🙂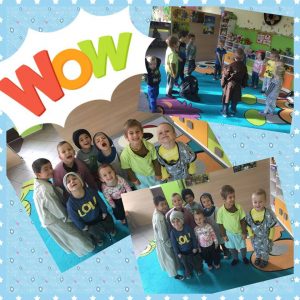 2. Linka
Po praniu wypadałoby oczywiście rozwiesić nasze ciuszki 🙂 Potrzebne będą więc klamerki i sznurek. Wieszamy go w sali tak, żeby dzieci dosięgały. Wywieszamy ciuszki na podobnej zasadzie, co przy wkładaniu ich do pralki – czyli za każdym razem wypowiadamy nazwy elementów garderoby na głos.
3. Worek skarbów
Ten rodzaj ćwiczenia przyszedł mi na myśl, kiedy wspominałam jedną z zabaw weselnych 🙂 Potrzebne Wam będą:
worek (najlepiej taki na śmieci, żeby nic nie było widać),

ubrania,

muzyka.
Wkładamy do worka ubrania, których nazwy aktualnie z dziećmi przerabiamy. Najlepiej po 2-3 sztuki każdego elementu garderoby. Dzieci ustawiają się w kółeczku, a ja włączam muzykę (najlepiej też taką związaną z ubraniami, ale niekoniecznie). W czasie gdy gra muzyka, dzieci podają sobie worek z ręki do ręki, lecz kiedy muzyka się zatrzymuje, dziecko, które akurat trzyma worek, wyciąga z niego jedną rzecz. Jego zadaniem jest powiedzieć po angielsku co to jest, po czym dostaje polecenie "Put on your….".
Zabawa jest jeszcze lepsza, jeśli ciuszki są za duże 🙂 Kiedy worek już się opróżni, dzieci mogą przećwiczyć zwrot " I'm wearing…." , a później " Take off…" W klasach 1-3 można zwiększyć ilość słownictwa i dodać do worka okulary, peruki, itp. 🙂
P.S. Nie zapomnijcie o pamiątkowym zdjęciu 😀
4. Polowanie z łapkami
Znaczna większość z Was zna zabawy z łapkami na muchy, które dzieciaki uwielbiają. Możemy w ten sposób ćwiczyć najróżniejsze słownictwo. Moja rada: łapki na muchy (np.: ze sklepu Tiger – petarda! Są ogromne i robią efekt WOW u uczniów, ale też u dorosłych, gdy tylko je zobaczą).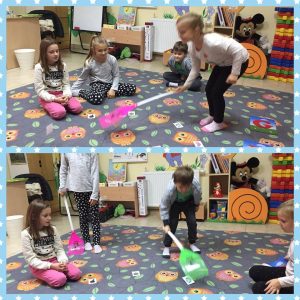 5. Maty
Maty KIDDO ze sklepu playmeandlearn.com skradły moje serce the moment I saw them 4 the first time, ale dość wysoka cena wstrzymywała mnie przed kupnem. Kiedy już udało mi się uzbierać pieniążki i zainwestować w maty, od razu to zrobiłam. Zamówienie i dostawa przebiegły bardzo sprawnie. Kiedy doszły, cieszyłam się jak dziecko, które dostało wymarzony prezent 😀 (serio! nawet moja córka się ze mnie śmiała). Maty elegancko zapakowane, każda w osobnej folii (na początku się zastanawiałam czy wyjmować z folii, tylko że nie byłyby wtedy antypoślizgowe :D). Na szczęście można je prać. Co można robić z matami? Cuda 🙂 Rzucać nimi, układać, skakać po nich… Chyba najfajniejsze są części ciała: najpierw układamy utrwalając słownictwo, później skaczemy jak kiedyś w klasy i powtarzamy słówka, a później sprzątamy – ćwicząc rozumienie ze słuchu. Bardzo podobają mi się też litery alfabetu, bo najpierw skaczemy i utrwalamy, później dzieci muszą naskoczyć na odpowiednią literkę, a w starszych grupach układamy słówka 🙂 Na pewno będę dalej je kolekcjonować 🙂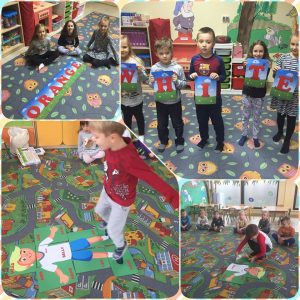 6. Wierszyki
Na koniec krótka rymowanka, którą mam z książeczki My Little Island 3, a która fajnie utrwala cyfry za pomocą TPR: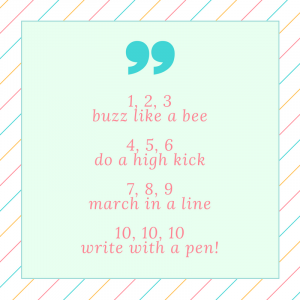 Podzielcie się fajnymi rymowankami, kochani… Nie mogę się doczekać, żeby je poznać <3