Pamiętacie jakieś zabawy z Waszego dzieciństwa? W co najchętniej bawiliście się z rodzicami czy z przyjaciółmi? Wykorzystujecie te zabawy na zajęciach z dziećmi? Ja bardzo lubię!
Chociaż jest jedna zabawa, której jeszcze nie umiem przełożyć na pracę z dziećmi… Jak byliśmy dziećmi z bratem, tata bawił się z nami w… UWAGA… ŚPIĄCĄ KRÓLEWNĘ… 😀 Tak, to on był śpiącą królewną. Spał sobie na podłodze, a my byliśmy krasnoludkami i krzątaliśmy się obok niego, bawiliśmy się… Do momentu, aż trochę podrośliśmy i się zorientowaliśmy, że coś jest nie halo 😀 . Tak… Taką zabawę chciałabym wymyślić – żeby nic nie robić, a nauczyć ;D Jak na coś wpadnę, to dam Wam znać. Póki co, zapraszam na kolejną dawkę pomysłów:
Telefon
Osoby , których dzieciństwo przypadało na lata 90-te lub wcześniej, na bank pamiętają telefony zrobione z metalowych puszek lub plastikowych kubków i kawałka sznurka. W internecie możecie znaleźć wskazówki jak zrobić takie telefony.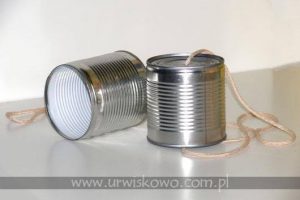 UWAGA! Jeśli robicie telefony z puszek, musicie spiłować brzegi, żeby dzieci nie zrobiły sobie krzywdy.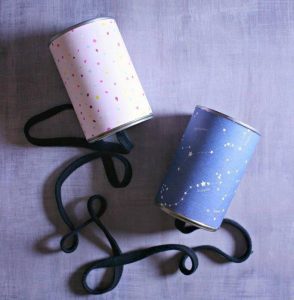 Takimi telefonami możemy bawić się na zasadzie głuchego telefonu, żeby utrwalać słownictwo. Można posadzić dzieci w kółeczku lub mogą się schować za biurkiem i… przekazać sekretną wiadomość 😉
Możecie się tym bawić również na zasadzie "telefonu do lekarza/ do przyjaciela/…" itp. 🙂 Dobra zabawa gwarantowana!
Hat, hat, jumper
Kiedyś na ogniskach bawiliśmy się w prostą zabawę – żeby poznać swoje imiona, uderzaliśmy dwa razy w uda powtarzając swoje imię i raz klaskaliśmy, podając imię koleżanki, a wtedy ta koleżanka podawała imię swoje i kogoś innego. Z czasem przyśpieszaliśmy. Kto się pomylił, ten odpadał… Ja troszkę uprościłam tą zabawę, pokazując dzieciom karty obrazkowe lub jak na filmiku, napisy… Niby powtarzanie, ale wcale nie jest nudne:)
Gra w klasy
Tą zabawę można wykorzystać przy utrwalaniu każdego rodzaju słownictwa. Rozkładamy karty obrazkowe i skaczemy:)
4. Prezenty
Kto z Was nie lubił dostawać prezentów jako dziecko? A jeszcze takich pięknie zapakowanych? Szał! Chyba nawet jako dorośli je lubimy, prawda? 🙂 A gdyby tak wprowadzić za ich pomocą… nowe słownictwo? Dzieci są zaciekawione, każdy chce zobaczyć, co jest w środku… Zapakujcie w ten sposób karty obrazkowe z nowymi słówkami, lub jeśli przerabiacie temat "toys" – zapakujcie zabawki. Skupienie i rozbudzenie ciekawości – gwarantowane 🙂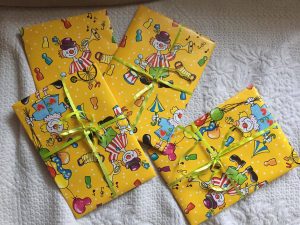 Karty obrazkowe
Karty obrazkowe chyba przerobiliście już podobnie jak ja na "tysiąc" sposobów, a ja ostatnio urozmaiciłam i podajemy je sobie za pleckami lub… stopami. Oczywiście jednocześnie powtarzając słówko. Początkowo obawiałam się, że karty się poniszczą, ale okazał się to strzał w 10-tkę! 🙂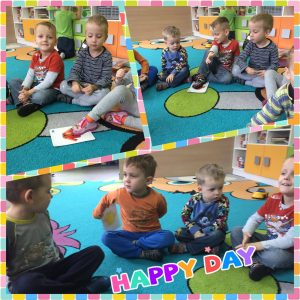 Chętnie też zaczerpnę inspiracji od Was! Uwielbiam uczyć się nowych rzeczy! Piszcie o Waszych pomysłach w komentarzach 🙂
Have a great day!