W tym poście pokażę Wam moje własne przepisy (kuchenno-językowo-zabawowe) na wytworzenie dobrej atmosfery na zajęciach i wzmocnioną motywację zarówno nauczyciela, jak i dziecka 🙂
Skorupkowe szaleństwo
Mieliście kiedyś ochotę rzucić w kogoś jajkiem?:) Mój tato opowiadał, że jak był chłopcem, to wchodzili z bratem na drzewo i rzucali w ludzi jajkami 🙂 Bardzo brzydko, bardzo… Ale przyznacie, że nie jeden raz w głowie pojawia się taka myśl 😉 Jajek używamy w kuchni często, a nawet bardzo często. Myślę tylko jak ich użyć ponownie i stąd kolejny pomysł! Kiedy przygotowujecie taką na przykład bezę, to przecież skorupek jest sporo, a wystarczy je tylko umyć i napisać na nich cyfry. Czym rozbijamy skorupki? Jakimś bezpiecznym narzędziem kuchennym. U mnie to takie do ucierania ciasta, tylko że nie pamiętam jak się je profesjonalnie nazywa 😉 I pamiętajcie oczywiście o jakiejś podkładce w postaci, na przykład, folii.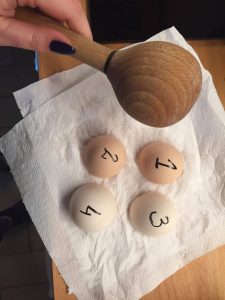 Po co Wam to pokazuję? Wiadomo, że to nie jest aktywność, którą będziemy z dziećmi wykonywać codziennie i zawsze już przychodzić na zajęcia z drewnianymi łychami, folią i skorupkami od jajek, ale spróbujcie choć w jednej grupie. Raz. Zobaczycie, że sami będziecie się dobrze bawić, odrywając lekcję nieco od tej monotonii codziennych zajęć w środowisku szkolnym pełnym gadżetów z plastiku. Zupełnie innych materiałów, niż chociażby te kuchenne przybory 😉 Dla dzieci to niesamowita przygoda!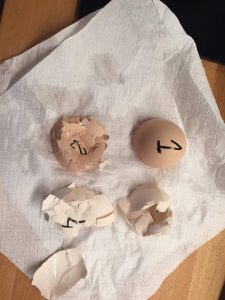 Kolorowe kręglowanie
[Uwaga! Jeśli nie dysponujesz kręglami, możesz ustawić zakręcone plastikowe butelki z zabarwioną wodą w środku 🙂 ]
Ostatnio gdy weszłam do sali, moje kochane dwulatki znalazły się w ferworze niesamowitego sprzątania. Kładą na dywanie kręgle, na co ja, że przecież kręgle powinny być na półce.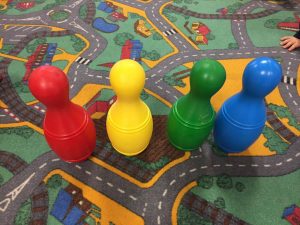 Ich pani szybko zareagowała, że te kręgle to one mi szykują, bo w ten właśnie sposób uczyliśmy się przecież kolorów (podawaliśmy je sobie i mówiliśmy głośno nazwę koloru).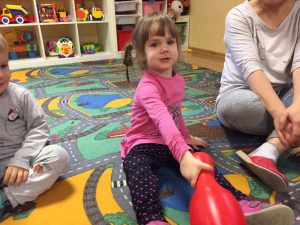 Ciepło mi się na sercu zrobiło! Na tych właśnie zajęciach kręglami uderzaliśmy o podłogę, wypowiadając na głos nazwę koloru. I to się dzieciom podobało 🙂 Uderzyć z całej siły, rozładować energię, a przy okazji powtórzyć słownictwo 🙂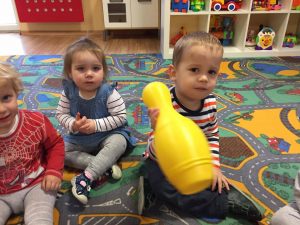 W starszych grupach uderzamy dłonią o podłogę i powtarzamy słówka. Niby banalne, ale w tym czasie nikt nikogo nie zaczepia, nie ciągnie, nie szturcha. Energia przedszkolaków skierowana jest w podłogę (tak, właśnie!). Rączki zajęte, a słownictwo utrwalone!
Donośny megafon
A co dla tych cichych, bardziej nieśmiałych? Niektórzy nauczyciele używają mikrofonu… Dzieci często przełamują się, gdy mogą skorzystać z takiego sprzętu. Ale mikrofon już był. Ja mam megafon Strażaka Sama 🙂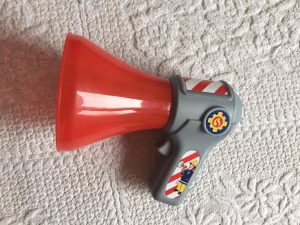 Na filmiku akurat bez baterii, więc Tymek użył siły głosu 🙂 Zobaczcie sami!
Talerzykowe gry planszowe
Jak wiecie, lubię proste rozwiązania. Plastikowy talerzyk, pisak, kostka i już można utrwalać słownictwo! Ten pomysł to częściowo inspiracja zaczerpnięta z bloga mojedziecikreatywnie.pl. Uczniowie kolejno rzucają kostką i wypowiadają na głos to na co trafiły. Swoją drogą ciekawe, czy zgadniecie co narysowałam bo mój talent rozszyfrowują tylko najmłodsi 😉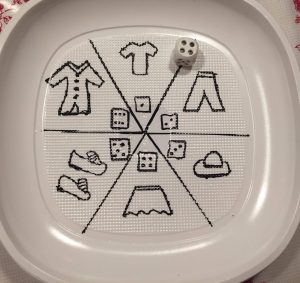 A Ty, jakie masz przepisy na fajne zabawy w klasie? Podziel się nimi koniecznie! 🙂
Have a nice day!