Dzieci w wieku wczesnoszkolnym nie lubią pisać. Pisanie jest dla nich nieciekawym zajęciem, trudnym wręcz (głównie dlatego, że dopiero wypracowują odpowiedni chwyt długopisu, łączenie literek, itp.)  Jednak przychodzi taki moment, w którym należy zacząć uczyć pisania również w języku obcym. Jak to zaplanować, żeby było ciekawie i angażująco? Oto piątka z moich sprawdzonych sposobów:
Wejdź an stronę i zacznij tworzyć własne historyjki poprzez uzupełnienie niektórych danych. Pozwól dzieciom najpierw wpisać swoje imię, a następnie wybrać historyjkę (oczywiście zależnie od tego jakie słowa chcesz utrwalić). Zadaniem dzieci jest po prostu wpisać słówka. Klik i historyjka gotowa! Nie dość, że dzieci zaangażowane są poprzez samo pisanie, to jeszcze później bardzo chętnie czytają powstałe opowiadania. Dlaczego? Każda historia jest ich osobistym dziełem i każda jest unikatowa 🙂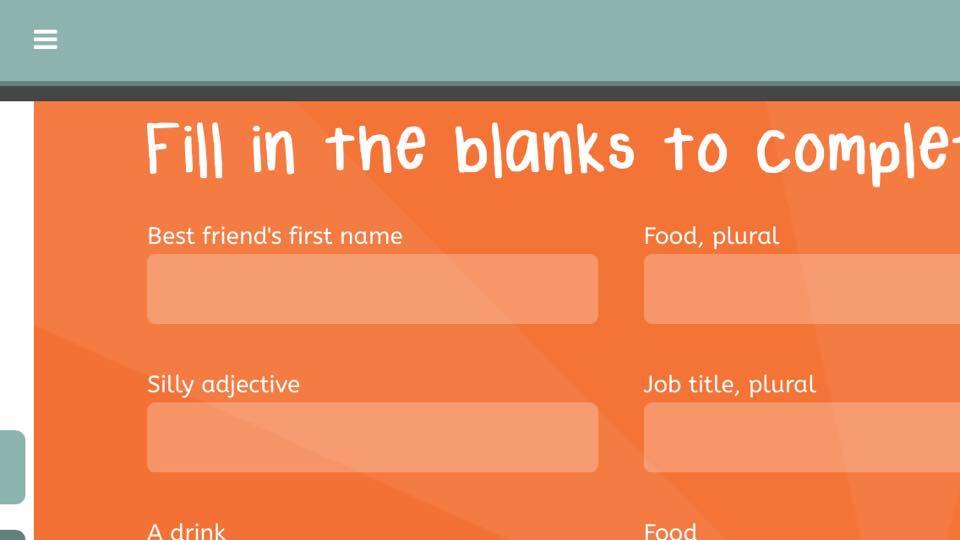 2) Rozsypanki literowe / Scrabble
Jak to organizuję? Wycinam pojedyncze literki, a dzieci układają z nich poznane wcześniej słówka i naklejają na kartkę. Alternatywą jest wydrukowanie obrazków, które dzieci później dopasowują do ułożonych słów. Słówka można układać za pomocą literek z gry Scrabble (uwaga! upewnij się, że masz odpowiednią ilość literek). Marta Nawrocka zaproponowała układanie słówek z makaronu literki, co uważam za równie świetny pomysł!
3) Łańcuchy wyrazowe
Rozdaj swoim uczniom paski wycięte z kartek (dodatkowym atutem będzie kolorowy papier). Co robią uczniowie? Oczywiście zapisują na nich słówka, a później tworzą z nich caaałe łańcuchy.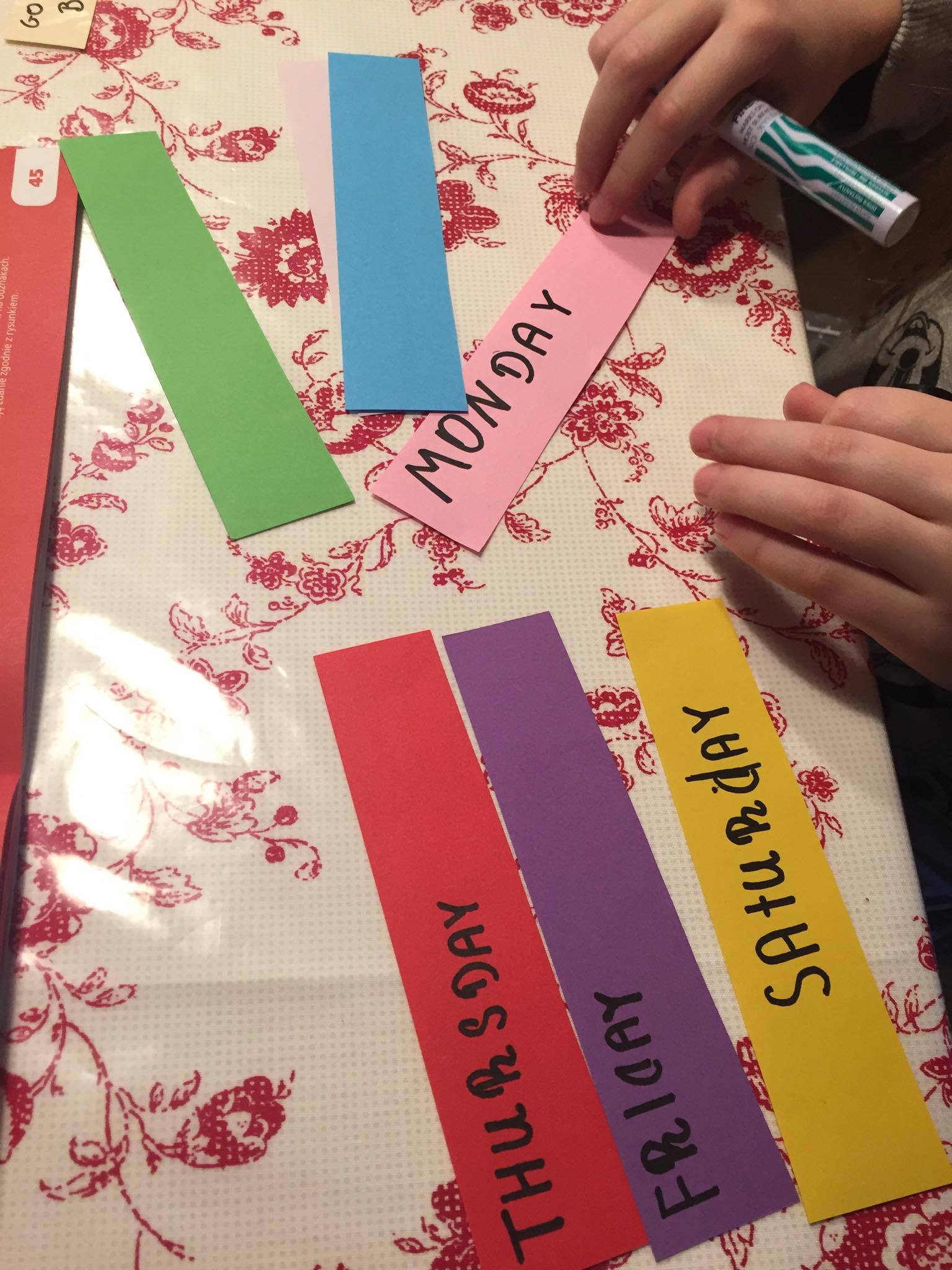 Łańcuchy zabierają do domku i za ich pomocą powtarzają poznane słownictwo  🙂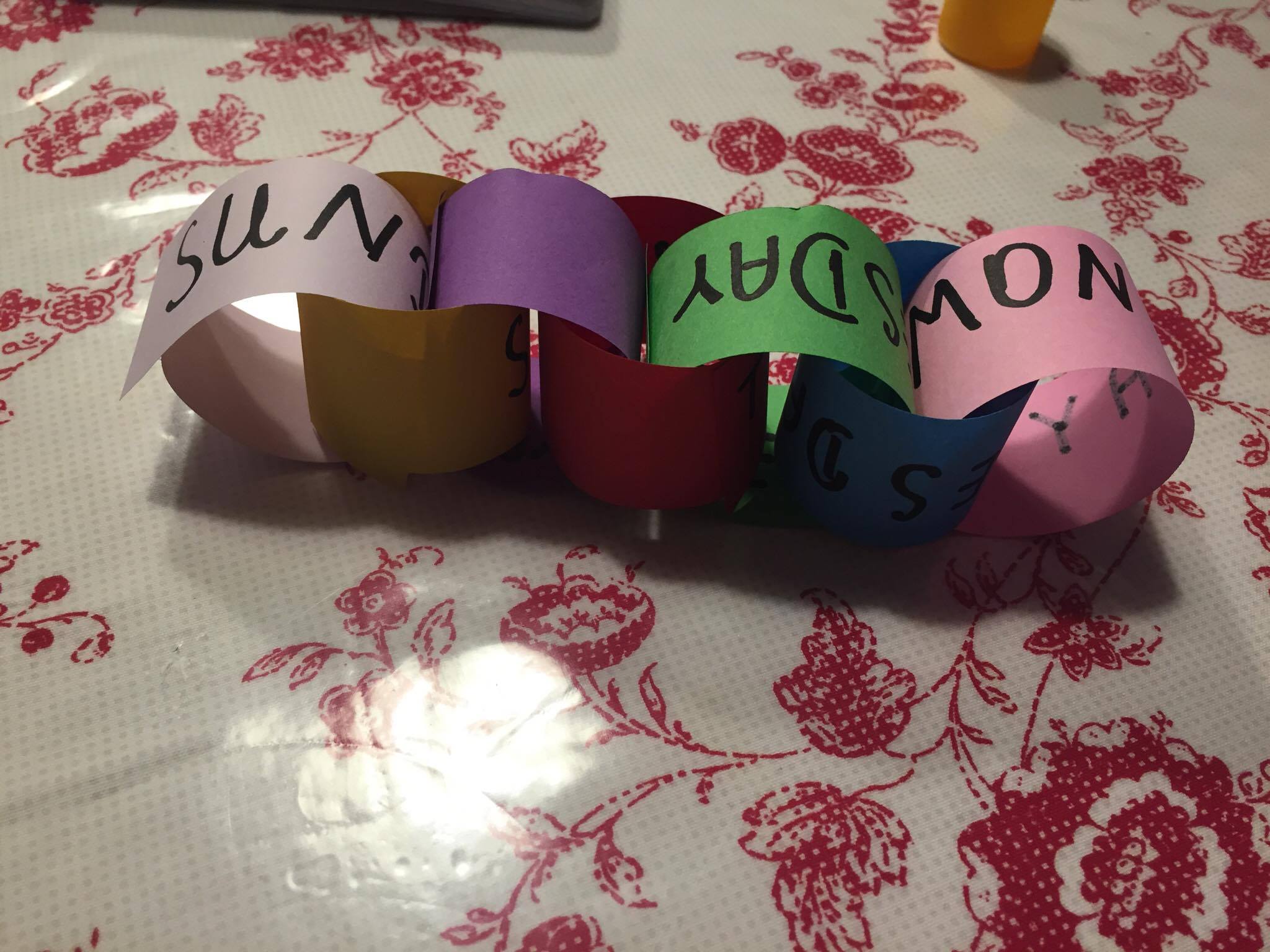 4) Piszemy list do Królowej Anglii
Starsze grupy są zmotywowane jeśli mają napisać do kogoś realnego . Na grupie nauczyciele angielskiego znalazłam wspaniały pomysł na list do królowej . Królowe i księżniczki tylko w bajkach? Niezupełnie 🙂 Jeśli znasz angielski, możesz napisać list do Królowej Elżbiety 🙂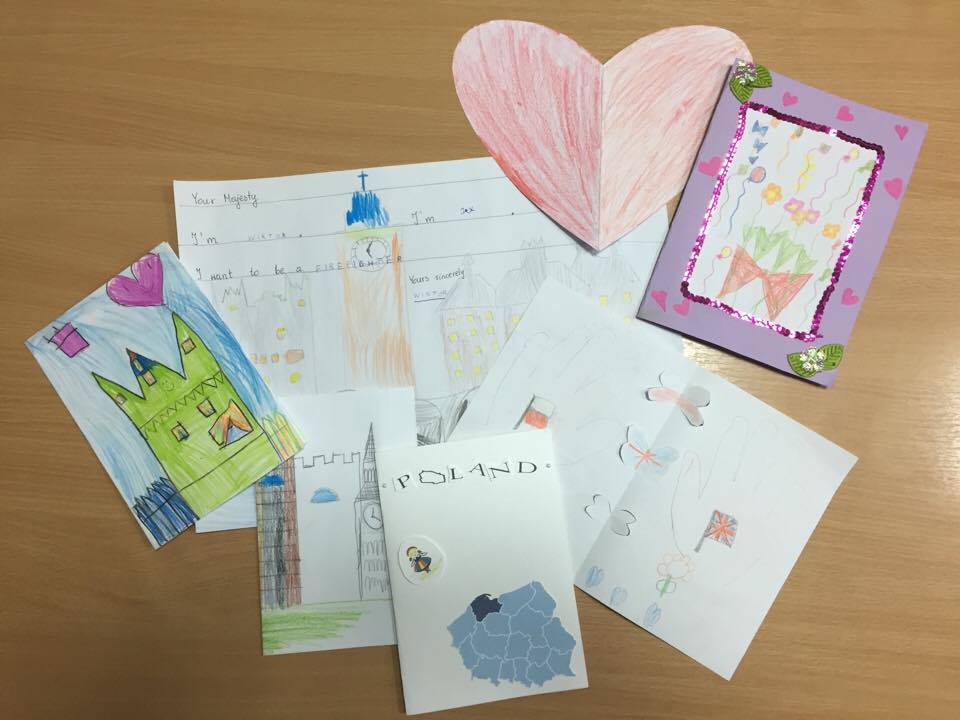 Ponieważ dzieci akurat utrwalały konstrukcję have got, napisały królowej parę zdań o sobie oraz o tym, kim chciałyby być w przyszłości. A co najważniejsze… otrzymały odpowiedź prosto z pałacu!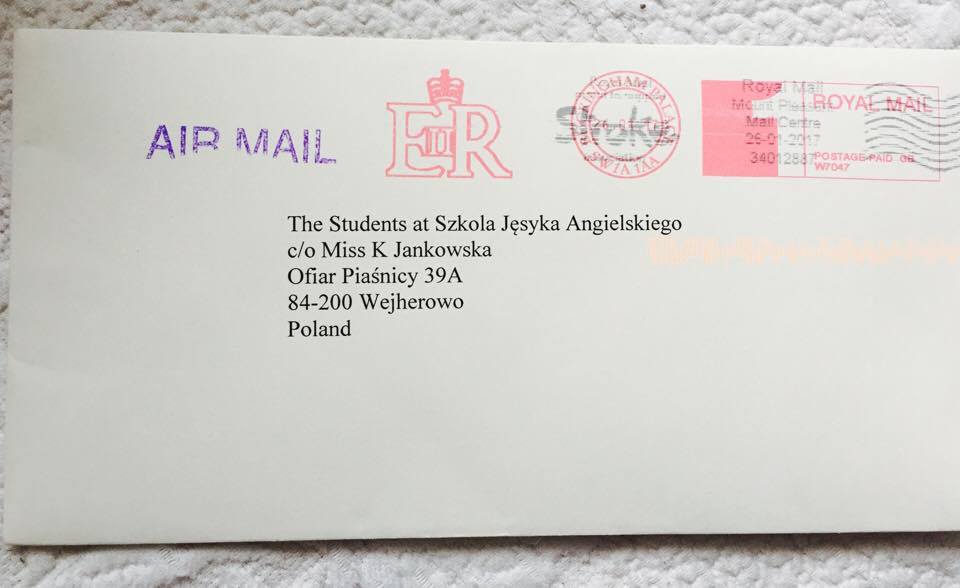 Teraz kolej na list do księcia i do księżnej! Gdyby ktoś chciał skorzystać, podaję adresy:
The Duke and Duchess of Cambridge
Clarence House
London SW1A  1BA
***
Her Majesty the Queen
Buckingham Palace
London SW1A  1AA
Tak się bawiliśmy!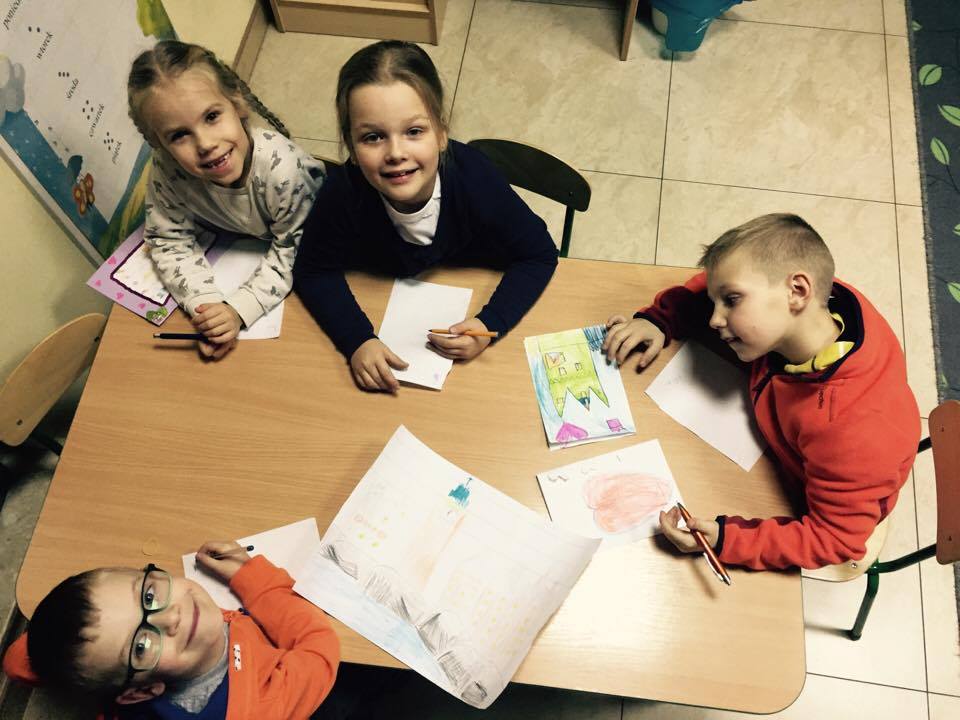 5) Kinestetyczne pisanie
Niedawno ćwiczyłam konstrukcję has got z dziećmi i bardzo chciałam, żeby pisemnie ją sobie utrwaliły. Przyznacie sami jednak, że dla dzieci w 2 lub 3 klasie SP pisanie 10 zdań to okropna perspektywa… Przygotowałam 10 zdań: 5 z opisem kobiety i 5 z opisem mężczyzny. Porozkładałam po 1 zdaniu w różnych miejscach w klasie. Zadaniem dzieci było przepisać te zdania poprawnie na kartkę (kartki miały leżeć na stolikach i nie można było ruszyć ani kartek ze stolików, ani karteczek porozkładanych w sali). Później zadaniem dzieci było narysować te osoby zgodnie z opisem. Nadzorowałam ćwiczenie sprawdzając poprawność spisywanych zdań (przy zdaniu z błędem stawiałam kropeczkę ołówkiem, a jeśli tylko zdanie zostało poprawione, kropeczka była natychmiast zmazywana). Dzieci bawiły się świetnie, a przy tym wytężały głowy maksymalnie i myślę, że zapamiętały słowa, a nawet całe zdania 🙂
Oprócz powyższych sposobów pisanie na różnych powierzchniach – kartonie, kartce zawieszonej na ścianie, tablicy, na pisaku, na chodniku i różnymi sposobami: kredą, węglem, plasteliną, palcem, będzie moim zdaniem ciekawym urozmaiceniem. Co ważne, pisanie nie będzie tylko przykrym obowiązkiem, ale przede wszystkim… niesamowitą przygodą 🙂
A Ty? Jakie masz sprawdzone pomysły na pisanie? Daj znać w komentarzu 🙂